Thank you to everyone who participated in the 2022 Solutions Showcase. Click the buttons below to watch the presentations. Recordings from the Solutions Showcase will be available through July 30th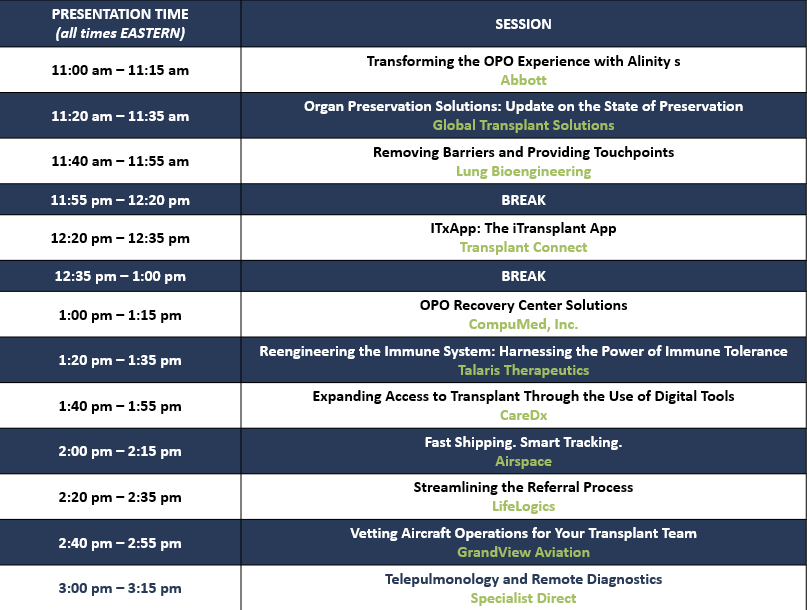 The 2nd annual Solutions Showcase will be available to current AOPO Industry Partners and companies that are registered to exhibit at the 2022 Annual Meeting.
The Solutions Showcase is designed to give AOPO exhibitors and Industry Partners the opportunity to present their latest product and/or service to the OPO community. Specifically, take this time to promote a service or product your company provides and tell us how you serve the OPO community. AOPO is responsible for inviting the OPO community.
The Solutions Showcase will take place on June 7th from 11 AM – 3 PM. Each organization will have a 15-minute timeslot with 5-minute breaks between each presentation. There will be a limit of 10 organizations per day.
The Solutions Showcase will take place via Zoom. All presentations will be recorded and housed on the AOPO Annual Meeting website for one month.
$750 per organization. AOPO Industry Partners will receive a discount based on partnership level. AOPO Annual Meeting registrants may attend for free. The deadline to submit an application is May 13. 
The exhibitor and partners will be divided into categories based on areas of expertise (transportation/logistics, technology, perfusion, service provider, insurance, etc.). Attendees will have the opportunity to attend one or all the sessions. Each exhibitor or partner is permitted to use their time to promote their product or service.
BENEFITS TO PARTICIPATING
AOPO will market the Solutions Showcase on our website, via social media, and direct marketing emails.
AOPO will market the Solutions Showcase on the Annual Meeting website and drive traffic to the Solutions Showcase page where the recordings will be stored.
Each participating organization will receive a list of attendees that joined their presentation.