This National Donate Life Month we asked our member organ procurement organizations (OPOs) to share with us the stories that demonstrate the life-saving work they do every day, and the incredible gift of life organ, eye and tissue donation can provide. The following story was submitted by Melissa (Missy) Holliday, Donor Family Member and Organ Operations Director at LifeCenter Organ Donor Network in Cincinnati, Ohio.
Missy's sister Dee Dee and her boyfriend shortly before the accident
"01/27/1991 – 0600: My family was informed that a final brain death exam had been completed and that my sister had been given a time of death. Even my few years of nursing experience could not have prepared me for the conversation we were about to have. A young physician whom we had not worked with during the mentally exhausting 14 hours we had spent at the hospital met with us in a quiet consultation room to give us the news.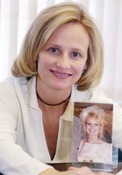 Missy holding a picture of sister Dee Dee
In the same breath he used to tell us she was brain dead, he also asked us if we wanted to donate her organs. That discussion would be the catalyst for a complete change in my career and my life. I decided that day that I would like to share our story and hoped to be a facilitator for change in the way families in the greater Cincinnati area are approached for this amazingly selfless gift. I came to work for LifeCenter in September, 1993 and have shared my story with countless people. I now am the Organ Operations Director and am honored to oversee a team of amazing individuals who work with families in our community. I am proud of the fact that my sister continues to touch lives through my work. I can think of no greater way to honor her."
Missy Holliday and her parents were featured on FOX Network's Mobbed (2011-2013), which pairs groups of flash mobs with individuals across the US to deliver important messages to their loved onces with host Howie Mandel. Watch the full episode.
Photos provided by Missy Holiday