Advancing Health Equity in Organ Donation

A Roadmap to 50K Transplants
In 2021, the Association of Organ Procurement Organizations (AOPO) established a visionary goal: achieving 50,000 annual organ transplants in 2026. This mission is rooted in steps to increase organ donation and transplantation rates through expanding collaboration with stakeholders, maximizing organ utilization, driving innovation and research, and reducing health inequities.
As we observe National Minority Donor Awareness Month, our focus is on collaborative efforts aimed at establishing a fairer organ donation and transplantation system. These efforts guide Organ Procurement Organizations (OPOs) in placing health equity at the forefront and ultimately enhancing support for donors, donor families, and individuals awaiting life-saving organ transplants. We aim to bolster cultural education, data-driven policies, research, and partnerships to create a more equitable system. Let's explore the key approaches and initiatives that are propelling this transformation.
National Academies Report: A Blueprint for Equity
A pivotal moment in this journey was the release of a comprehensive report by the National Academies of Sciences, Engineering, and Medicine (NASEM). This peer-reviewed report, initiated by Congress and sponsored by the National Institutes of Health (NIH), provides a holistic evaluation of the organ donation and transplantation system. The findings lay down a clear roadmap for stakeholders to enhance equity, optimize organ utilization, and elevate system performance in the United States transplantation system in the next five years. Here are a few of the recommendations AOPO is actively working on to enhance equity:
Increase the diversity of the donation and transplantation workforce to better meet the needs of donor families and transplant recipients.
Conduct ongoing targeted public education campaigns to convey the need for organ donation to save lives, to eliminate misconceptions about organ donation and transplantation, and to increase the trustworthiness of the transplantation system.
Embed continuous quality improvement efforts across the fabric of the U.S. organ donation system.
Establish national performance goals to improve donation and increase transplantation rates among minority and disadvantaged populations, based on proven practices of donor hospitals, OPOs, and transplant centers.
Closing the Gap: Challenges and Progress
While strides have been made in increasing transplants from deceased donors, the road to 50,000 annual organ transplants in 2026 remains challenging. Current data trends suggest a potential shortfall if the current pace is maintained. This realization serves as a clarion call for increased efforts and initiatives to accelerate donation and transplantation rates across the U.S. By the close of 2022, our community achieved a significant milestone by successfully transplanting 39,860* organs. However, to achieve our ambitious objective, we must recover and transplant 10,000+ more organs annually over the next four years. Let's examine the ongoing efforts of AOPO aimed at reducing health disparities and leading us toward achieving this target goal.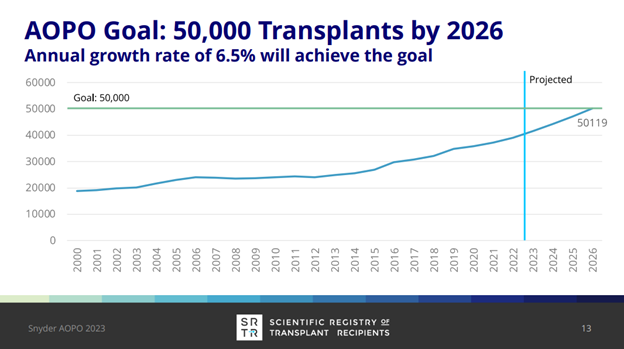 Jon Snyder, PhD, MS, Director of Transplant Epidemiology of Hennepin Healthcare Research Institute presented projections to achieve the goal at AOPO's 2023 Annual Meeting.
Spotlight on Initiatives
1. National Minority Donor Awareness Month
August marks the official observance of National Minority Donor Awareness Month. The annual event aims to engage diverse and underserved communities by providing education on organ, eye, and tissue donation, fostering a positive decision-making culture. This initiative, hosted by the National Multicultural Action Group, aligns seamlessly with AOPO's ongoing commitment to advancing diversity, equity, and inclusion in the field of organ donation. [Learn More]
2. HBCU Pilot Programs
AOPO's collaboration with Historically Black College and University (HBCU) Medical Schools stands as a testament to its dedication to equity. These pilot programs are designed to increase the number of Black health professionals in organ donation and transplantation and educate communities of color on the importance of organ donation to save lives. [Learn More]
3. Barbershop Health Talks
This National Black Nurses Association (NBNA) hosted a Barbershop Health Talks session, supported by AOPO and its members, is a prime example of innovative partnerships to boost community engagement. Industry-leading experts engaged in discussions about the significance of organ, eye, and tissue donation within the Black community. This unique initiative blended community, compassion, and healthcare advocacy to create a meaningful impact. [Learn More]
4. DEI Learning & Development
The AOPO Diversity, Equity, and Inclusion (DEI) Committee's multifaceted approach is instrumental in driving change. OPOs have undergone an evaluation using the DEI Assessment Tool to pinpoint areas for enhancement, and AOPO has utilized these insights to craft educational programs for OPOs. This year, the DEI Committee has organized diverse sessions during our Annual Meeting, alongside a robust webinar series aimed at implementing DEI initiatives effectively. [Learn More]
Conclusion: A Pathway to Transformative Change
Building upon the NASEM recommendations, the work of AOPO presents a transformative pathway toward achieving the bold goal of 50,000 annual organ transplants in 2026. Through prioritizing health equity, fostering cultural awareness, embracing data-driven strategies, and forging partnerships, AOPO is ushering in an era of inclusivity and fairness in organ donation and transplantation. As we journey forward, the collective efforts of stakeholders, professionals, and communities will undoubtedly reshape the landscape of organ transplantation, saving countless lives and leaving an indelible mark on the future of healthcare.
*Based on OPTN data as of February 28, 2023.
Thanks,
Steve Miller, MBA, CAE
AOPO CEO