This National Donate Life Month we asked our member OPOs to share with us the stories that demonstrate the life-saving work they do every day, and the incredible gift of life organ, eye and tissue donation can provide. The following story was submitted by Katelynn Metz, Community Outreach Coordinator at the Center for Organ Recovery and Education (CORE) in Pittsburgh, PA.
Bill Cornell suffered from Pulmonary Fibrosis for years before he was added to the Transplant Waiting List seeking a double lung transplant. While on the list, this business professional, avid golfer, father, grandfather and formerly active 60-year-old became gravely ill.
His physicians explained to his family that if donor lungs did not come within days, Bill would not survive. That same night–and on Christmas Eve—Cheryl, the mother of Bill's son's sister-in-law, was rushed to the same hospital (UPMC Presbyterian) where Bill was lying— dying. She had suffered a massive stroke. The two members of this one extended family were in separate rooms not far apart in the same hospital and neither patient prognosis was very encouraging.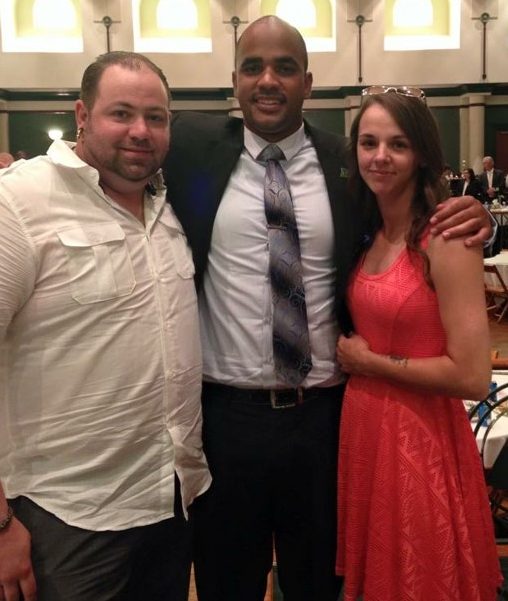 Bill's son, Eric, Cheryl's daughter, Ashley, and CORE OPC Wesley Washington at the 2015 Special Place Ceremony
When Cheryl progressed to brain death, CORE spoke with her family about donation. Her daughter explained to the Organ Procurement Coordinator (OPC) that an extended family member was waiting for a lung transplant in that same hospital and wondered if she could specify for Cheryl's lungs to go to Bill. The OPC explained to the daughter, and the rest of the family that in order for a direct donation to occur, the donor and the recipient have to be a match and that it would be unlikely for these two to match. But amazingly, on Christmas Day, the tests confirmed that Bill and Cheryl were indeed a nearly perfect match and that surgeons were going to recover her lungs to save Bill's life.
The family decided not to tell Bill who his donor was while he was recovering. They worried that it might put pressure on him and impede his recovery—a recovery that ended up being nothing short of amazing. Within three months, Bill began volunteering for CORE, completed a 5k and finished the American Lung Association Stair Climb for fresh air. In less than a year he was back to work at his consulting practice and was even well enough to take his grandson on a once-in-a-lifetime trip to Washington, D.C.
Bill always thought of his donor however. He, through CORE, wrote a letter to his donor's family expressing his overwhelming gratitude. Cheryl's daughter received the letter and shared it with Bill's children.
Every year in May, the donor families from the previous year are invited to CORE to honor their loved one's memory at "The Special Place" ceremony. Cheryl's daughter invited Bill's son to attend Special Place with her. And when the emotional event was over, the two decided it was time to tell Bill that someone who he knew in life, had saved him in death.
Today, this family has one message: You never know who you might save when you choose to become a donor. It could be someone you care about.