PRESS STATEMENT FOR IMMEDIATE RELEASE

Contact Information:
Jenny Daigle | jdaigle@aopo.org
2023 CMS OPO Performance Report: AOPO Raises Concerns About Implications for the
Organ Donation and Transplantation System in the U.S.
McLean, VA (April 28, 2023) – The Association of Organ Procurement Organizations (AOPO) has reviewed the performance report of Organ Procurement Organizations (OPOs) released by the Centers for Medicare and Medicaid Services (CMS) today and has concerns about its implications for the organ donation system in the U.S. and the support of donor families and transplant patients.
OPOs have worked under the revised CMS metrics for the past two years and have experienced significant improvement in the rate of deceased organ donation and the number of deceased organs recovered and offered for transplant, as well as the number of organs transplanted. In 2021 – the year the report's performance outcomes are based upon – 79% of the nation's 56 OPOs set records for the most deceased donors in a single calendar year, and 86% increased donors recovered over the year before. Yet this continuous and marked success is not reflected in the CMS performance report, which places more OPOs than ever – 42% – in the lowest tier, Tier 3.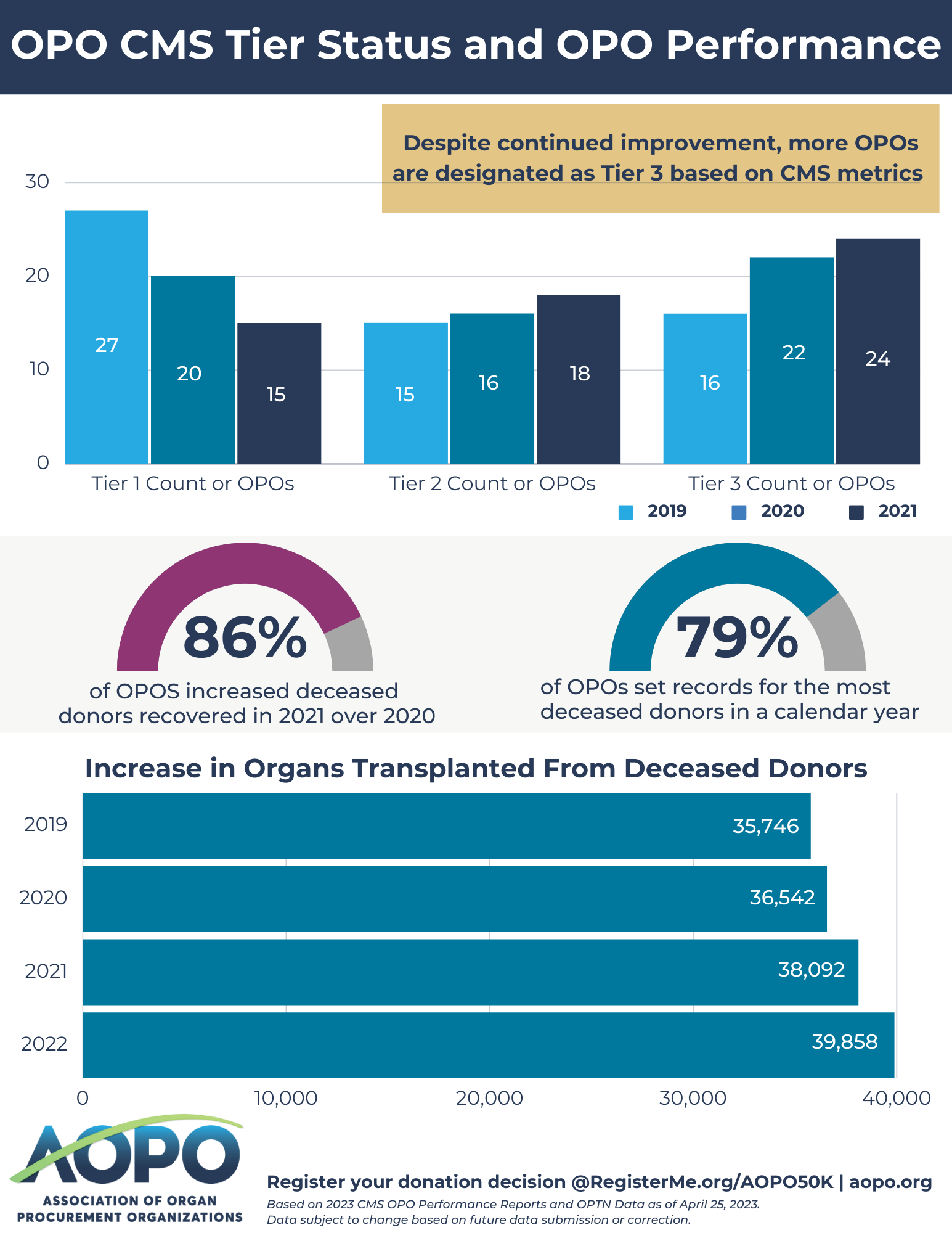 Particularly concerning to the OPO community is when the new CMS regulations take effect in 2026, Tier 3 OPOs will automatically be decertified with no opportunity for remediation. To date, CMS has yet to release their plan for how to deal with these implications. Such broad decertification would have a serious negative impact on the number of organ donations and transplants in the U.S., the highest performing donation and transplantation system in the world.
AOPO is supportive of continuous improvement and metrics to guide the development of best practices to save more lives through organ transplantation. However, we strongly urge policymakers in Washington to take these concerns seriously and act now to prevent unnecessary and harmful disruption to the organ donation and transplantation system that will result from vast decertification of OPOs.
###
The Association of Organ Procurement Organizations (AOPO) is the national representative of 48 federally designated nonprofit Organ Procurement Organizations (OPOs) in the United States, which serve millions of Americans combined. AOPO is dedicated to providing education, information sharing, research, technical assistance, and collaboration with OPOs, other stakeholders, and federal agencies to continue this nation's world-leading transplant rates while consistently improving towards the singular goal of saving as many lives as possible. For more information, please visit www.aopo.org.